Donna Parcell
Donna's Missionary Experiences
"One of my favorite things was attending church with them. While they are poor in things, they are so rich in faith. Their worship is so full of energy and praise for God. They treated us like family and prayed over us fervently."
2015 – Missionary Volunteer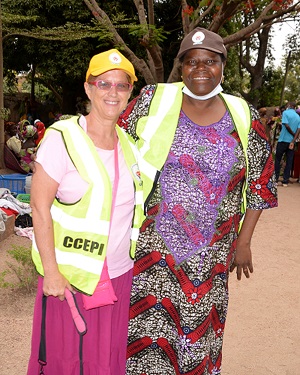 In October of 2014, Boko Haram insurgents overtook the Church of the Brethren headquarters in Kwarhi, Kulp Bible college, and many churches and Christian schools, homes, medical clinics, and businesses. The people who survived the attacked fled in the bush. Hundreds of thousands were affected. In the spring of 2015, just months after the insurgence, I volunteered to go to Nigeria to physically stand with our Nigerian brothers and sisters. It was a life changing experience.
EYN (the Brethren church in Nigeria) headquarters, had temporarily relocated to Jos, a more central and stable city. During my time there I talked with many people. Literally everyone had lost someone. I head heart breaking tales of people witnessing their husbands and children brutally murdered. Since every church had been affected, there simply were no resources or money to help. People were homeless, without work. The children had not been in school. Boko Haram had literally destroyed or taken everything they owned. They had no homes, no livestock, no staples, no crops, and no means to earn the money to buy seeds or food. It was devastating. A normal conversation would be "I haven't seen your son in a while. Is he alive?" and the answer would be "I don't know. I haven't heard from him in 6 months." Truly heartbreaking.
And yet, there was hope. I have never witnessed such profound faith. Taking the peace aspect of the church very seriously, EYN refused to take up arms. Not only that, but they worked towards forgiving their enemy. Every day they would pray for God to change the hearts of Boko Haram, and every day they would thank God that they were counted among the living. Here were people who had lost everything, and yet were still willing to forgive.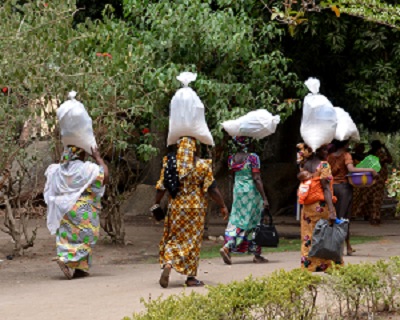 While I was there, I was able to participate in a trauma healing workshop. This was an amazing experience. Muslim and Christians gathered in small groups under mango trees, and worked together towards understanding and forgiveness. Many tears were shed, and the long road toward healing had begun. This will be a process that will take a life time, but I was encouraged at what I saw.
There are several nonprofit organizations working within Nigeria to provide for those affected. I was able to work with CCEPI, which is an organization that provides food and supplies to widows. I was impressed at how patiently the woman waited in the hot sun for over an hour to receive their provisions. Each person that I handed something to thanked me. During my stay in Jos, a nearby EYN displaced family looked out for me, and often brought me an egg or a banana, or even clothing. I was humbled beyond measure to see the mother from this family waiting in line for supplies. She was so generous with me, yet was herself displaced and struggling to provide for her children.
I visited Favoured Sisters school, which is a boarding school for orphans. Most of the children were victims of Boko Haram. The teachers were looking for ways to help the children through the trauma. The principle proudly showed us the library, which held but a few books. There was much sadness in the eyes of the children, and yet they were excited to meet us and to play with us.
I was given the opportunity to travel. We were not allowed to stay overnight, and we had to be well out of the area before dusk. Accompanied by military guard, we visited communities and churches that had been destroyed. We talked with those who had dared to return. We saw the burned down churches, homes, clinics, and schools. One of the most powerful moments was seeing a group of women worshiping under the charred roof of their burned church. We saw the damage at EYN headquarters and Kulp Bible College. Upon our return to Jos, EYN leaders were anxious to hear about our journey, as they had not yet returned to their homes. While in the Northeast, I also visited several Displaced Persons (IDP) camps. So many are displaced, and so many live in the poorest conditions in these camps. The devastation and human suffering was overwhelming.
During my time there, I was also able to attend EYN's annual conference. Over 1,000 delegates gathered for the meeting in Jos. Again, many stories were shared, and all were prayed for. At one point one delegate said that they had turned the other cheek as instructed by Jesus, and the enemy had slapped that cheek also. There were no other cheeks to turn. The leadership responded that we are to love our enemies. Such amazing faith. Christian clergy are among the most at risk in the attacks, and during the conference many new pastors were ordained. To see this level of commitment and willingness to follow Jesus was amazing during this time of great risk. I was also asked to participate in a foot washing service. As I washed the feet of my persecuted sister, those feet which had fled, and as she washed mine, I was completely overwhelmed.
A few days after annual conference, the annual youth convention was held in the same church. Again, 1,000 young adults gathered to pray, worship, encourage, and be encouraged. I was also amazed at the hospitality everywhere I went. During these conferences, a handful of women with huge smiles on their faces prepared 3 meals a day over open fires for more than 1,000 people. And washed all of those dishes. They served with joy and it was wonderful to see.
My new friend Markus is one of the most generous people I know. In his small 3 room house, he took in 60 displaced people. He also began the Gurku interfaith IDP camp. Here he purposely houses Muslims and Christians in the same camp. The kitchen areas, lavatories, and water supplies are all centrally located so the people interact with each other. The people are required to make the bricks to build their homes, giving them pride and ownership. There are fields where the people can plant crops. There is a fish hatchery where widows can raise fish for income. The people are learning to work together and to live together. The first step towards peace is understanding.
2016 Fellowship Tour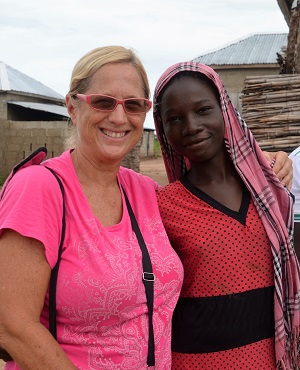 In the summer of 2016, I was asked to lead a group of 10 people from the United States. Our mission was to go to Nigeria and encourage our brothers and sisters. We have learned that our physical presence is so very important to them.
I was encouraged to see many positive changes. The most notable one was visiting the Northeast. In 2015 I was not allowed to stay overnight and had to be several hours away from the area by dusk. This time, we actually stayed in the guest house of Kulp Bible College for three days! We returned to the same churches I had visited the previous year, and we were so encouraged by their joy and excitement over the planning to rebuild. We heard many stories, and we were shown the buildings that had been destroyed. But we also saw drawings of what the rebuilt churches would look like, and campaigns to raise the money had begun.
We visited IDP camps. It was heartbreaking because many are still living in such poor conditions and they are hungry. In one camp, the church did not have a roof and so they could not worship there during the rainy season. But the children were excited to see us, and we enjoyed reading to them and playing games with them.
We visited CCEPI, the nonprofit that helps widows and orphans. We talked with people who were in their tailoring program and their computer program. They are learning skills that they can use to support themselves and their families. They also learn how to make soap, jewelry, and other things that they can sell. We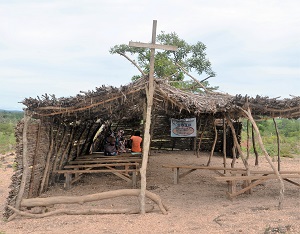 assisted in a large distribution. CCEPI keeps records of each person, and we assisted in the rigorous registration process. They we also had the chance to assist with the distribution of food and other supplies. The people were very patient and very appreciative.
We visited Favoured Sisters School, and we were encouraged. The children seemed happier, and they were excited to share Bible verses with us that they had memorized. One young boy had memorized the entire book of Jonah! We sang songs, acted out Bible stories, did crafts, played games, and had a vigorous soccer game. We were sad to go, and they were sad to see us leave. But we were encouraged by their smiling faces.
We visited Gurku Interfaith IDP camp. So many good things happening there! There is now a clinic and a small store. A teacher comes to teach the children under a tree, with hopes of a school building someday. A church had just been built, and there are plans to build a mosque. We played games with the children, and we talked with the women. We were given a tour of the camp. There is now a dirt oven that the widows can use to make break to sell. And there are solar panels giving power to pump the water. A guest house is being built, for volunteers to stay in. The people are also learning to govern themselves, to work together, and settle differences.
2016 Workcamp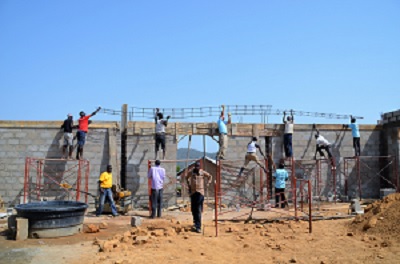 In November of 2016, I participated in the first workcamp in Nigeria since the insurgence. It was amazing to see the process of rebuilding begin. The Nigerians had never participated in a workcamp, and they were excited to be helping.
We stayed in Abuja, and we traveled about 1 ½ hours a day (each way) to the village of Pegi. There we worked alongside people who had fled from Chibok. Chibok is the town where 250 school girls were kidnapped by Boko Haram. The "Bring Back Our Girls" movement is in support of those girls and that community. It was an honor to be working along side of them. We were building a church.
I was amazed at how hard everyone worked. Women with babies on their backs carried cement blocks or bowls of rocks on their heads. It was hot, but nobody complained. We learned carpentry, masonry, and otherwise just helped carry heavy stuff. There was such joy in the rebuilding. Everyone encouraged us, and told us they were so thankful we were there.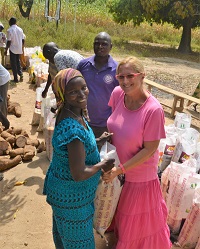 Every day the school children walked past us on their way to and from school. At first they were a little shy, but soon we became fast friends. They loved to tell us what they were learning, what their favorite subjects were, and what they hoped to be when they grew up. Seeing them was a highlight of my day.
In the evenings, we were hosted by local EYN families. We enjoyed spending time with them, talking with them, and visiting them in their homes. We also visited Gurku IDP camp, and we were excitedly shown around the camp. At one point I got separated from our group and had no idea where I was. A smiling young girl took me by the arm and led me back to our group. It was good to see continued growth and improvement in the camp.
We met with the chief of Pegi, and he told us how excited he was for the rebuilding. We also had a surprise visit by Joel Billi, the president of EYN. He gave a very encouraging speech, and then pitched right in and helped with the hard labor. It was very encouraging for the people to have him there.
By the end of our workcamp, we had completed the outside of the church building. Quite an accomplishment! We attended a worship service with our fellow workers, and members of the community. It was a very meaningful experience.
2017 Documentation Project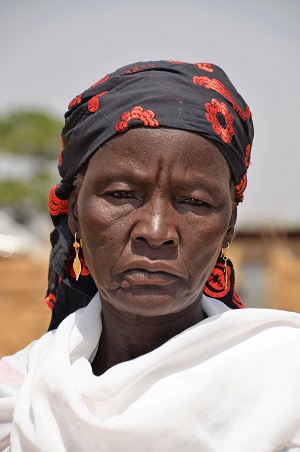 In February of 2017, I was asked to return to Nigeria with Carol Mason. Carol is a former missionary to Nigeria, and speaks fluent Hausa. Our mission was to photograph and document the stories of people affected by Boko Haram. These accounts will be complied into a book. There are a lot of statistics on the Boko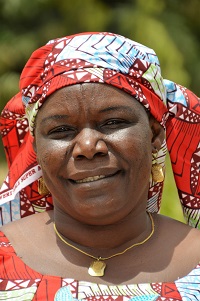 Haram attacks, but the idea was to make it more personal, showing individuals and their stories.
This missionary experience, while rewarding, was emotionally exhausting. Our days were filled with hearing the devastating stories of people who had lost so much and continued to struggle. We traveled throughout Nigeria, visiting many IDP camps. We were even able to meet with some families of the Chibok girls. By the end of our trip, we had interviewed and photographed over 300 people.
One very encouraging thing was we stayed for a week in Gurku Interfaith IDP camp. We actually stayed in the guest house that I had seen being built the year before! And there is now a pre school that meets in the church building. Progress continues to be made! The camp is now self-governed, with both a Muslim and a Christian as leaders.
We traveled to the Northeast, and stayed at the guest house at Kulp Bible College. It was so exciting to see that EYN headquarters had returned to Kwarhi! They had fled to Jos during the insurgence, and had remained in Jos for 2 years. The fact that they felt safe enough to return is a very positive step.
Workcamps are in place to begin rebuilding the churches in the Northeast. Much work still needs to be done, but it is encouraging to see the progress!
Rwanda: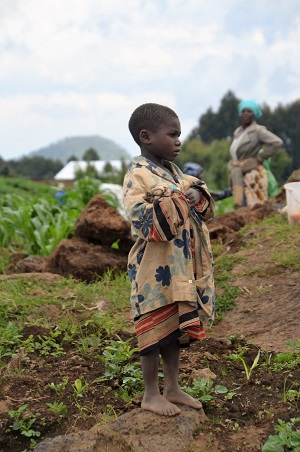 In May of 2017 I traveled to Rwanda with the organization New Community Project (NCP). NCP sponsors projects supporting girl's education, women's development, and environmental preservation in developing countries. In Kigali, Rwanda, we visited the Genocide Museum. It commemorates the 1994 massacre of over 800,000 Tutsi people by Hutu militias--and ordinary people--as well as genocides in other parts of the world. This site is also the burial ground for 25,000 victims of the 1994 tragedy. Unlike many other developing countries, Rwanda has a high number of women in positions of authority. This is largely due to the fact that so many men were lost in the massacre. We heard many stories of the horror of neighbor turning against neighbor. Thankfully, the Rwandans are working hard to ensure this never happens again.
We then traveled north, and spent our remaining weeks near the boarder of DR Congo. We met with several impoverished Batwa (pigmy) communities. The Batwa are looked down upon, and discriminated against. The children, in many cases, are not allowed to attend school. Most communities are living in extreme poverty. Traditionally, they have lived in the forests, but many Batwa communities have been displaced by conservation projects and their remaining forests have been degraded by logging, encroachment by farmers, and commercial activities such as intensive bush-meat harvesting. Few have received any compensation for the loss of their self-sufficient livelihoods in the forest and face extreme levels of poverty and ill-health in 'squatter' settlements on the fringes of the land that was once theirs.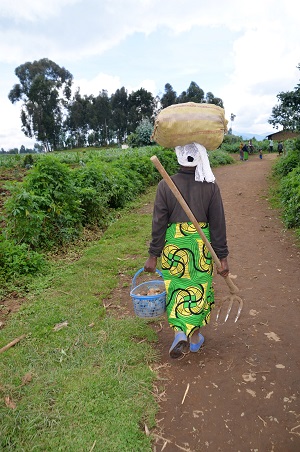 In Rwanda they often earn a living by making and selling pottery. Now this livelihood is threatened by the loss of access to clay through the privatization of land and by the increasing availability of plastic products. Begging and selling their labor cheaply have become the only options left to many displaced and marginalized forest peoples.
We met with several women's groups. One woman told us "Life is very, very challenging, We women are in charge of maintaining the home and providing for our families. We sometimes have to beg to get food to feed our children." One big problem for the children is a small insect they called "jiggers"--they infest and infect your feet if you don't have close-toed shoes. Most children wore battered open toed shoes, if any shoes at all. Another woman said, "Many of us are illiterate. Few have had any skills training. And we are the sole providers for our families--the men have run away from us and from their responsibilities. When they are around, they leave as soon as the food runs out."
We weren't able to get visas to enter the DR Congo, so the Congo came to us, in the form of a group of women who traveled 10 hours by bus to meet us. They were all graduates of NCP-supported tailoring classes. They were very thankful for the opportunity of learning a trade, and being able to provide for their families. They were also very proud of being able to send their children to school. We were honored when they presented us a gift of hand made clothing. We also talked with them about challenges they continue to face. One of the most difficult chores for these women is getting water. Sometimes they are away from home from 4 in the morning until noon, depending on the number of women ahead of them in line at the borehole.
I was amazed at the determination and resilience of the women. They are facing so many hardships and dire circumstances, and yet they are determined to provide for their children. The Church of the Brethren is supporting churches in both Rwanda and DR Congo. Both countries are in great need of support. DR Congo is experiencing much violence. Rape is very common, and once a woman is raped she is worthless to her husband. Dozens of armed groups remain active in east DR Congo.
"In June of 2014, I joined my daughter Sarah to serve in Yei, South Sudan. We worked with YWAM Yei (Youth With A Mission). We stayed at their base, living in their dormitory and eating our meals of rice and beans with the staff and their families.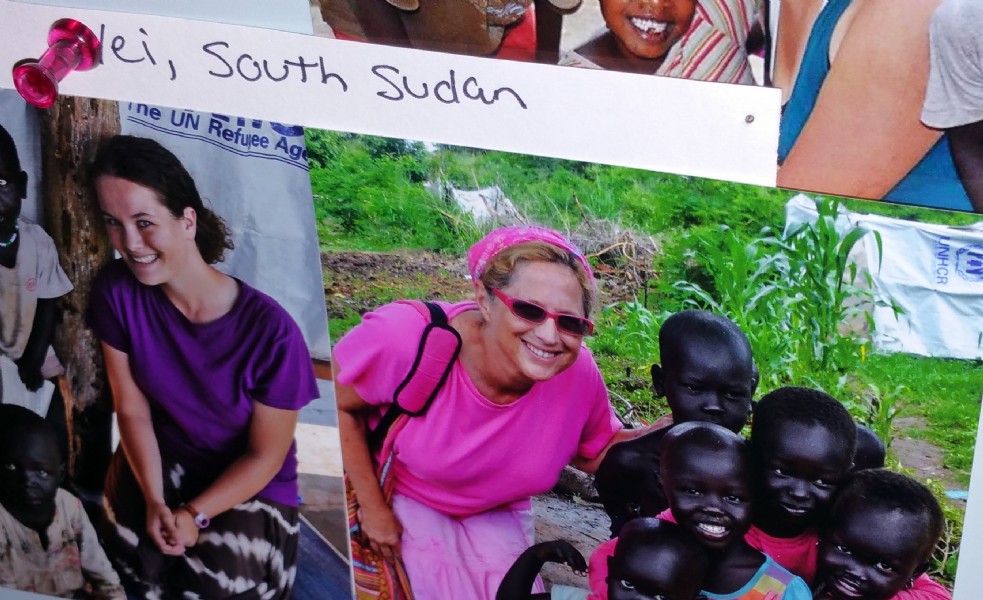 South Sudan is the world's newest country, seceding from Sudan in February of 2011. They have been in a state of civil war for decades. The newest conflict involves the Neur and Dinka tribes. Because of this, there are many displaced people. These people live in IDP (internally displaced people) camps. They live in tents with no access to clean drinking water. Their food comes to them by donation, as it is not safe for them to leave the camps. We assisted in a food distribution and were impressed at how hard they worked to distribute the food fairly. We also filled all of their water jugs with clean water from the base.
The first time we visited the nearest camp, I was asked to lead a Bible lesson with the men who were there for English class which was taught by an YWAM staff member. Upon our arrival, about a dozen children came running. God immediately spoke to our hearts and Sarah and I knew that we needed to teach the children. Since they could not leave camp, these children could not go to school or church. We began immediately teaching them Bible stories, numbers, letters, and English. They were so eager to learn. Each time we came to teach they came running waving the notebooks and pencils we gave them. These children touched our hearts so much.
The YWAM base also has a primary school on their campus. What a great way to minister to children! Sarah and I assisted in teaching English, Math, Health, and Science to the children, as well as teaching them games at recess. We also taught the Bible lessons twice a week.
We also assisted with the children's ministry for the children of the YWAM staff, and visited the local orphanages to meet the children and tell them about Jesus.
Twice a week we traveled into the town of Yei and taught Muslim men and women English. We met many kind people who went out of our way to help us.
One of my favorite things was attending church with them. While they are poor in things, they are so rich in faith. Their worship is so full of energy and praise for God. They treated us like family and prayed over us fervently."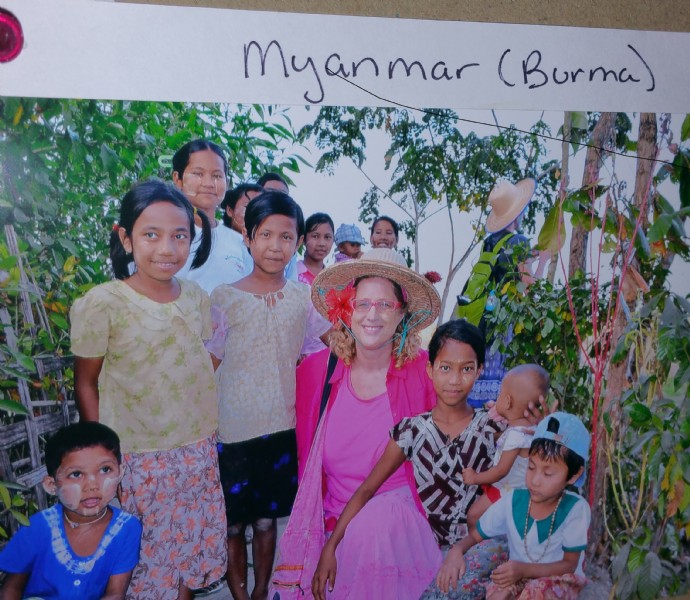 "In January of 2013 I traveled to Myanmar with the organization New Community Project (NCP). NCP sponsors projects supporting girl's education, women development, and environmental preservation in developing countries.
We began our journey in the delta region of Southern Myanmar. We visited several villages where the women had begun small businesses with microloans supplied by NCP. The women were so proud of their businesses and the fact that they were able to contribute to their families. Some women were rice brokers, some sold fish, and some opened small stores. One woman collected duck eggs and journeyed many hours to the nearest town to sell her eggs, numbering over 200! These villages are still recovering from typhoon Nargus. We heard stories from parents who watched their children being swept away. Many lost everything. It was heart breaking.
The next part of our journey was a very strenuous 10 hour trek into the mountain country. We visited remote peoples who were using NCP scholarships to get education for their daughters. We met an 8 year old girl whose days are spent carrying wood for her family. We tried to lift her load and could not. Education is so important, and gives the girls a chance at a better life.
Our trekking guide was Jimmy, who plants thousands of trees a year, thanks to NCP funding. We saw many of his trees on our trek, and were amazed at the beauty of this country."
"In February of 2011, my daughter Sarah and I traveled to Nimule and Narus South Sudan with New Community Project (NCP). My daughter and I had been raising money for girl's education in South Sudan for several years, and were excited at the thought of meeting some of the girls we had sponsored.
The trip to Nimule and Narus is a difficult one on many levels. The conditions are very harsh. This is one of the poorest nations in the world. At most places we were the first while people they had seen.
In Nimule, we visited a woman's gardening project. They worked hard cultivating the rough and rocky soil, most often with babies on their back. We tried, but could barely break the ground. We also visited a women's tailoring project. The women bought pedal operated sewing machines with NCP funds, and were taught sewing skills. They were so proud of their work and so excited to be able to contribute to their families. They said the money they earned went to pay for education for their daughters.
We also got to visit two secondary schools in Nimule, and meet several of the girls attending on NCP scholarships. We talked with them about some of their struggles. They told us they don't have books, and yet still manage to study and learn. The girls all said they wanted to be teachers or doctors and wanted to come back to help their village. At school, they also don't each lunch. Many of them walk many miles to attend school, which is dangerous for young girls. They also have many chores at home and so are too tired and don't have time to study. For these and other reasons, NCP sponsored a campaign to build a girls dorm. I'm excited to say the building is finished and girls will be attending in February of 2015!
Narus is a very remote village, and it took us 15 grueling hours to travel there. We met with women who had started a tailoring business with NCP grants. They had made an arrangement with the local school to sew their uniforms! We also met girls receiving NCP scholarships. They were so happy we had come to support them. Education is so important. Girls as young as 10 are sold in marriage to men who are 50 or 60. Education gives them a chance at a better life.
We were so impressed with their sense of community and compassion. Their number one question was "how can more girls get an education". Many of them are single mothers who have been refugees for years and can barely feed their families, yet they take in orphans they find wandering."
If you have any questions about the outreach to these countries or about NCP, please email Donna at dparcell@comcast.net